Heart & Soul Exhibition & fundraising auction: Postponed to 2022
The themes 'heART & SOUL' are embedded in the mission of Arms Around The Child. A global charity, building a better and kinder environment for children, living, through no fault of their own orphaned, abandoned, trafficked, living in child-headed households or at risk of child abuse in Ghana, India, and South Africa."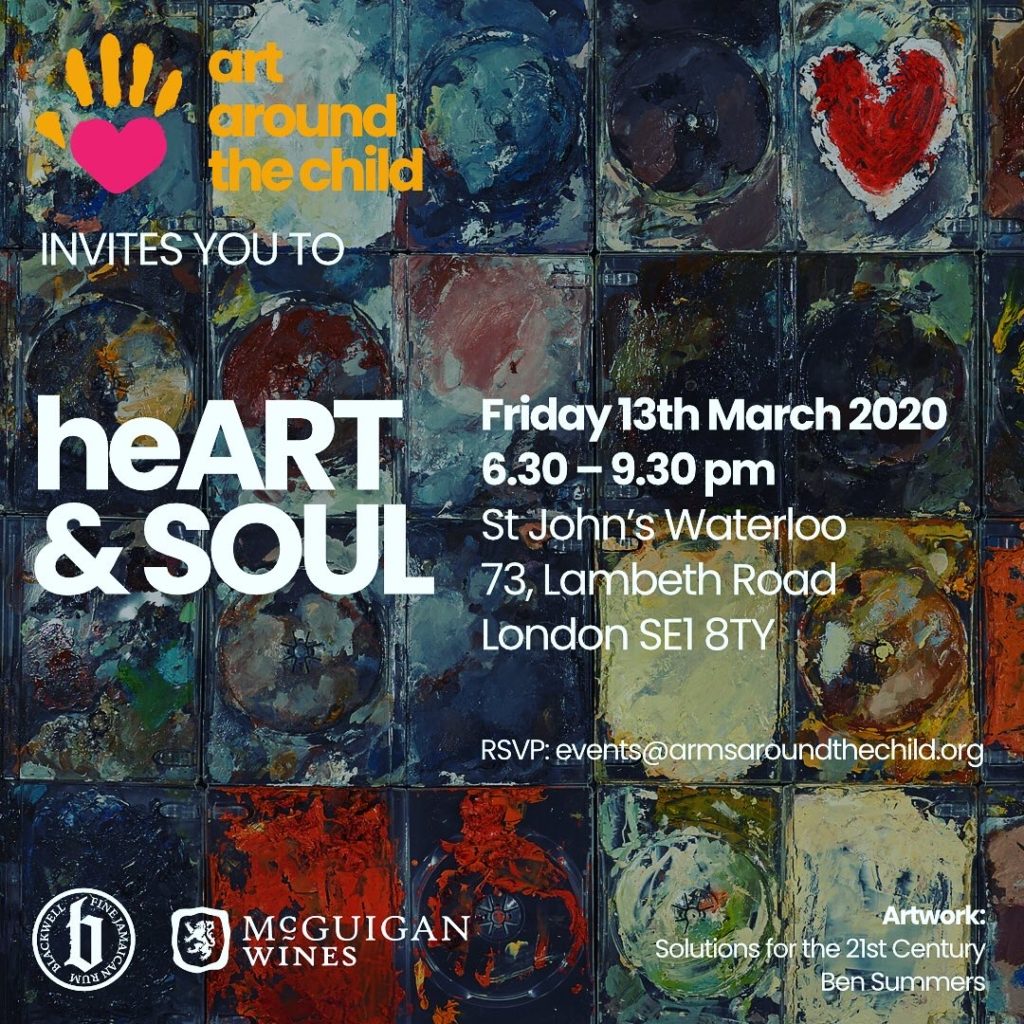 Featuring works donated by some of the most exciting contemporary artists working in the UK, Europe, Africa and Asia, "heART & SOUL" is the follow up to the charity's highly successful first auction, "HOME IS WHERE THE HEART IS" (2017), gavelled by former Christies Auctioneer Hugh Edmeades, which raised the funds to build the foundations of a new home in Jaipur for children orphaned and affected by HIV/AIDS.
"For this year's 'heART & SOUL' auction we are delighted that legendary singer Neneh Cherry has joined us as a guest curator.
Neneh Cherry is an iconic artist, whose enduring influence on popular culture has been infused with both art and music during a career spanning more than 3 decades," says the charity's Director Ellie Milner."
The auction will be co-curated by Lee Sharrock, Bakul Patki and Peter Wells Thorpe from 3003 group and will be available online with Paddle 8 prior to the live auction.
Arms Around The Child provides children with the much-needed safety, warmth, education, healthcare and community in a loving family home of their own.
With years of experience in direct care, Arms Around The Child works with 'on-the-ground warriors', who are trained to design and manage unique programmes with child-focussed organisations, providing what Milner describes as "the kind of joy. Love, peace and respect which children need for a brighter future."
Note to editors:
Curated by Lee Sharrock with the charity's director Ellie Milner and Peter Wells Thorpe from 3003 Group, 'HOME IS WHERE THE HEART IS' (2017) featured painting, photography and prints by leading contemporary artists, photographers, fashion designers and musicians, including: Sir Peter Blake, Terry O'Neill, David Byrne, Jamie Reid, Lauren Baker, Nancy Fouts, Zandra Rhodes, 3D (Massive Attack), Alastair Mackie, Hassan Hajjaj, Meredith Ostrom, Alexander Newley, Andrew Logan, Mr Brainwash, Nasser Azam, Ann-Marie James, Beatrice Brown, Ben Summers, Bradley Morgan Johnson, Dangerous Minds, Derrick Santini, Diego Fortunato, Edward Akrout, George Morton Clark, Graeme Messer, Hannah Matthews, Hayden Kays, Hiroshi Aoki, Katharina Hacker, Ilkar Cinarel, Jimmy Galvin, Laura Zeni, Michael Thompson, Paul Broomfield, Pure Evil, Rebecca Mason, Rob and Nick Carter, Rob Ryan, Romulo Celdran, Sky Sharrock and Toni Gallagher.
heART & SOUL Committee:
Ellie Milner, Lee Sharrock, Peter Wells Thorpe, Jason Colchin Carter, Frank Runge, Kiran Sharma, Mervyn Lyn, Roselyn Marcus, Bakul Patki, Lotta Runge, Stuart Watts, Helen O'Brien, Anna Kirrage, Adrian Shanker Filho.
For artwork donations & press enquiries:
Ellie Milner
ellie@armsaroundthechild.org